Great advances in the development of East Africa occurred during these years. A serious attempt was made to unify the East African Territories. "Kenya became a playground for wealthy sportsmen who came to shoot, or to photograph, big game, and they spent much money on their sport." [1: p443]
The following Earnings/Working Profits are recorded in or estimated from Hill's narrative:
Year           Earnings        Working Profits
1924          £1,635,189       £756,722            [1: p447]
1925          £1,993,509       £903,438            [1: p456]
1926          £2058,710        £841,937            [1: p459]
1927       £2,257,403       £1,030,000           estimated [1: p463/4]
1928       £2,511,227               –                     [1: p475] working profit not recorded by Hill
1929       £2,825,310               –                     [1: p475] working profit not recorded by Hill
The 1924 the working profit was reduced by £149,004 of loan charges.£165,579 was credited to the Renewals Fund and £438,139 to the Betterment Fund. Together with other sums, the result was that in 1925, £750,000 was put to a programme of renewals/betterment. There was also heavy expenditure on port development, new lines, rolling-stock and equipment. East Africa's transport needs were expanding rapidly. [1: p447]
A search on Facebook produced this composite image on the Baringo New Channel [2]
By the end of 1924, the Uasin-Gishu line had reached Timboroa; the Thika line had been extended to the Tana River. The Solai branch and the Kitole branch were under construction.
During 1925, the Thika line was expected to reach Nyeri, and the Uasin-Gishu line beyond Timboroa, through Turbo into Eastern Uganda was being funded by a £3.5 million loan. It was required – there had been a very rapid increase in traffic which was causing significant connection at the ports on Lake Victoria and at Mombasa. [1: p448/9]
At the end of 1924, 30 miles of the Mombasa to Nairobi mainline had been relayed with 80-lb rails. Work continued slowly through 1925. [1: p450]
On 3rd February 1926, the Kenya & Uganda (Transport) Order in Council was promulgated. The name of the railway was changed from the 'Uganda Railway' to the 'Kenya & Uganda Railway'. [1: p453] At this time the Inter-Colonial Railway Council held its last meeting. The railways were placed under the command of the High Commissioner who was also Governor of Kenya and a new 'Kenya & Uganda Railway Advisory Council' held its first meeting in February 1926 at Entebbe. [1: p453/4] It decided that the most pressing need was for there to be negotiations with the Tanganyika authorities to ensure that the two railway systems collaborated, rather than competed, with each other for custom. [1: p454]
There was continued criticism of congestion at ports and in Uganda, [1: p457] with goods delayed and damaged in transit. Criticism failed to take account of a significant increase in demand for railway services, nor of problems at ports which were outside of the control of the railway authorities.
By 1926, the mainline rail replacement programme had reached Makindu, 207 miles from Mombasa. New Central railway offices were under construction in Nairobi. The Uganda extension has reached the Eastern edges of the M'pologoma Swamp but the length heading East was over 10 months behind schedule due to supply problems across Lake Victoria. [1: p462]
In 1927, a commission to review the possibility of uniting the three East African Territories was set up. When it reported in 1929, it suggested that the two railway systems of East Africa must eventually be amalgamated under one management. "Meanwhile … there was much that could be done in the direction of assimilation of rates, the standardisation of engines, rolling stock, equipment and rules and regulations, all of which would greatly facilitate amalgamation in due course." [1: p467]
In September 1927, Felling, a strong supporter of 'Closer Union' spoke his mind in the Legislative Council. As part of his comments he stressed that one management of the Kenya and Uganda Railway and the Tanganyika Railway must "come in due course, but there [was] no urgent need for amalgamation of management's; and anyway, such an amalgamation would be very difficult to arrange until there  [was] a definite railway link connecting the two territories." [1: p468]
Further, he said, on the same occasion, that "it [was] clear that it [was] necessary for the general development of this part of the Empire that there should be rail communication between Kenya and the Central Tanganyika line, also a steady programme of railway construction to connect the Tanganyika Railway with Northern Rhodesia and Nyasaland …  [and] perhaps two lines, to the Congo." [1: p468]
He argued that "railway development in East Africa should not be looked upon so much as an East African investment as a sound Imperial investment, as in the interests of the people of Great Britain even more than in the interests of the native inhabitants of the territories concerned." [1: p469] He also argued for the rapid completion of a rail link from Jinja to Kampala.
In 1927, developments in the railways brought the advent of corridor coaches and dining cars. These were essential to a satisfactory timetable. 6 No. Mikado (2-8-2) locos were put to work on the 89-lb rails between Mombasa and Makindu. [1: p470/1]
A road and railway causeway/bridge between Mombasa Island and the mainland was commenced in June 1927.
In addition to the Uganda extension, building of branch lines continued:
On 1st November the Nyeri branch reached lnaro Moru.
In Uganda, work commenced on the Tororo, Mbale, Soroti branch in February 1927.
A branch from Fulfil to Thomson Falls was approved.
A line from Kisumu towards Mumias was proposed.
A preliminary survey for a branch from Turi to Sotik was completed. [1: p471]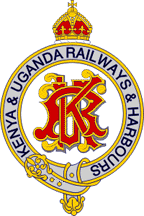 The Kenya & Uganda Railways & Harbours Logo, (c) Martin Greave, 2003 [7][8][9]
The railway's name was changed by Order in Council on 20th December 1927, to the 'Kenya and Uganda Railway and Harbours'. [1: p472]
On 15th January 1928, the final section of the Uganda Extension from Broderick Falls to M'Bulamuti opened to traffic. Within 9 months Christian Felling had died as a result of a severe attack of malaria.
The figures listed above show impressive growth in the years to 1929. The figures fr the following period fell just as rapidly as we will see. Hills says that "although it was not yet apparent, the railway, in common with Kenya and Uganda and the greater part of the civilised world, had come near to the end of the gilded years of prosperity." [1: p475]
References
M.F. Hill; Permanent Way – The Story of the Kenya and Uganda Railway – Volume 1; Hazel, Watson & Viney Ltd, Aylesbury & London, 1949.
https://www.facebook.com/BaringoNews/photos/a.695797717132551/1628337577211889/?__cft__%5B0%5D=AZXJTt5l44WKBwkc0OGOfdIBXJh5I0bMPcuQteTC_Me64OsopQKfjMESZy7PrPzOAchw-FVc0KdGd_asD0vB0qxFYfXPjx9uZ5ZJuAzio6UEu7EiKntyV2sqAzLkwPgR33qQ1HSeBZ77yIYr-80TACI2&__tn__=EH-R, accessed on 6th February 2021.
https://twitter.com/kresearcher/status/417357022041227266, accessed on 6th February 2021.
https://www.ebay.co.uk/itm/Kenya-Uganda-Railways-Mail-Train-1930s-Vintage-Card-VGC-/383704927668, accessed on 6th February 2021.
https://www.pinterest.co.uk/pin/319614904809896703, accessed on 6th February 2021.
https://wikivisually.com/wiki/KUR_EA_class, accessed on 6th February 2021.
https://www.fotw.info/images/e/eaf)kur.gif, accessed on 6th February 2021.
https://en.wikipedia.org/wiki/Kenya_and_Uganda_Railways_and_Harbours, accessed on 6th February 2021.