The featured image above has a sense of both the wind and flames of Pentecost, and the call to move out into the world as God's ambassadors and servants. [1]
Today is Pentecost or Whit Sunday the birthday of the Christian Church and a time for celebration and gifts.
Gift, what does that word conjure up?   Something given to us, something special that the person who is giving has taken the time to pick, or that one thing we were born with and able to excel at without trying, a talent.
On the very first Pentecost the Holy Spirit descended on the disciples and gave them the gift to be able to go out into the world and spread the Gospel.   It says in Acts 2, 'suddenly there was a noise from the sky which spread like a strong wind blowing, and it filled the whole house where they were sitting.  Then they saw what looked like tongues of fire which spread out and touched each person there'. (Flames of fire just like candles on a birthday cake!) The Holy Spirit being the ultimate gift from Jesus.
Jesus told them at The Ascension, "I am going so I can send the Spirit to you". (The Holy Spirit is another name of comforter, which is very apt).  They were able to speak and be understood in different languages, what must that have felt like?
Just before the lockdown, the Parish of the Good Shepherd in Ashton-under-Lyne started a group to learn to speak Spanish, we were given simple phrases and words to learn, it certainly wasn't something that happened straight away! So, it must have felt pretty frightening to the disciples, that they were able to understand and speak a language that was not their own.
Do we all have this gift, to be able to go out and spread the love that God has for us all?   Yes, I think we do, because it not just about speaking, it's what we do and how we conduct ourselves.  We all know that person who has the knack of being able to say the right thing when someone needs a helping hand with a problem, it might not be the answer, but sometimes it is a pointer in the right direction.   Or that person who sees that something needs doing and organises a group to do it or just gets on with it without a big show.
The past few weeks have brought out the gifts in people. Simple things like shopping for those who are self-isolating, or making contact by phone or text to check that people are OK. We are reflecting the love of God with what we do in our daily lives.
The way we 'do' church has changed during the pandemic, many of us have followed services online, radio, television, from many different sources, and we have received each week, by post or email the service and prayer sheet.   And although we have not been able to meet up with our friends from our own church, we are able to worship God with others who we may never meet but have so much in common with.    But we are still in touch with other because we pray together, sing together.    The fact that we haven't physically seen each other doesn't necessarily mean we are apart, God has given us the gift of being part of the his greater family.
Some 'gifts' are waiting to be recognised.   It takes a nudge, a word, an email or a post on social media to start the ball rolling.   We question ourselves, could I do that?  Do I have the time? Am I qualified enough? Am I doing this for the right reason?   But if we put our trust in God, he will show us the way. God will help us fit things into our daily lives. God will show us where to find the time. God will point us in the right direction.
No matter what our gift is, it is a mission given by God, and all we need to do is trust in him.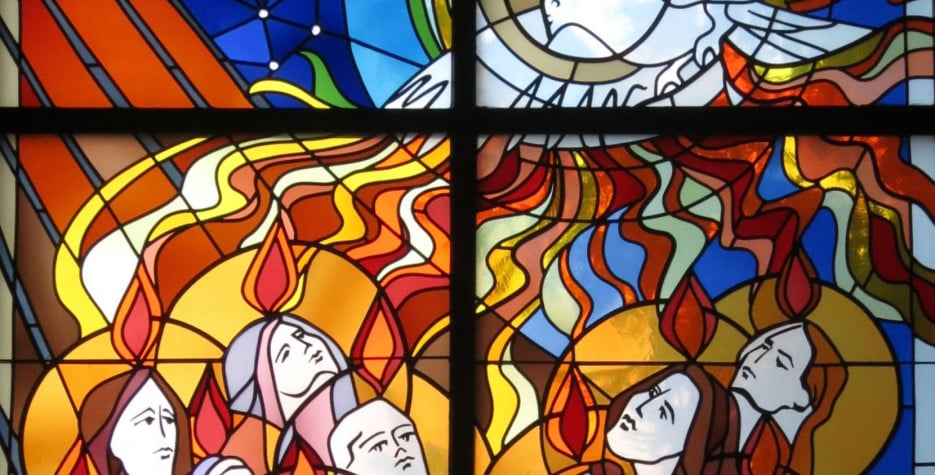 References
https://buildfaith.org/planning-for-pentecost, accessed on 29th May 2020.
https://www.officeholidays.com/holidays/pentecost-sunday, accessed on 29th May 2020.