Jeremiah 33.14-16
Psalm 25.1-9
1 Thessalonians 3.9-13
Luke 21.25-36
26 years ago dramatic things were happening Europe. On September 11th, Hungary removed all its border check points. On 9th November the Berlin Wall was breached. On 10th November Bulgaria's Communist president resigned. On 24th November Czechoslovakia's Velvet Revolution occurred and Vaclav Havel came to power. On 25th December Nicolae Ceausescu, Romania's dictator was executed by firing squad.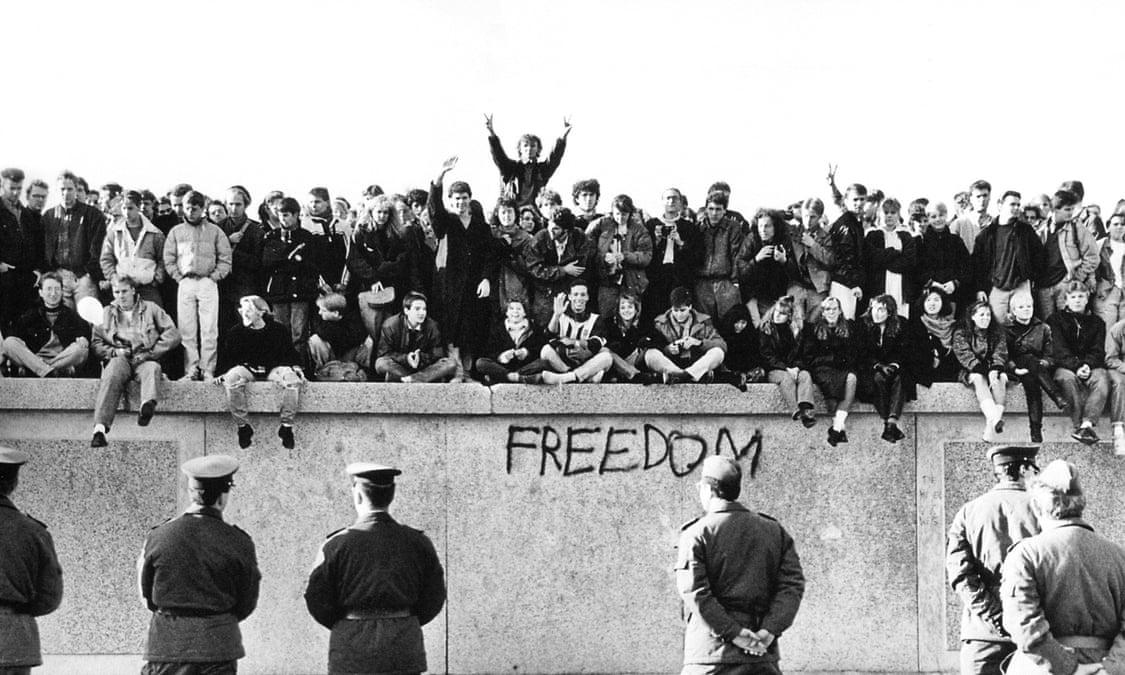 Over the New Year Holiday, the Berlin Wall was being dismantled. … The end of the Berlin Wall was the end of probably the most potent symbol of oppression in Europe in the 20th Century. It is disturbing to realize that it all happened so long ago.
I could not believe what was happening. It was so hard to take in … that the world order that I had grown up in – that of Cold War and a stand off between two superpowers was seemingly coming to an end. Something that even just months before those amazing events at the end of 1989 seemed completely impossible.
I'm not sure that I'd want to argue that what has replaced that era is any better, but nonetheless amazing unprecedented change did occur.
The nation of Israel – from the time of Jeremiah on had been longing for a Messiah – someone who would change the course of history for ever. They were so often disappointed, different men came promising what they could not deliver. No doubt Israel felt the mocking eyes of others as they clung onto this seemingly vain hope of a glorious Messiah. Someone who would bring in Israel's golden age. Everything pointed against it. Israel was a pawn, a minor league nation caught in the ebb and flow of the politics of the real powers.
Today is the first Sunday of Advent, and in Advent, as Christians we do at least two things ….. – firstly, we remember, we enter into something of the feelings of the people of Israel as they waited for the coming of their Messiah. We wait with them. … They had to wait 500 years – we at least give it the month of December – but we wait for the coming of the Christ child. Unlike them we know for sure that he will come – we've read the story before. But like them we impose our expectations on him – we know what the Christmas story is all about – we've got the story neatly packaged – if it wasn't we wouldn't be able to cope. We need the story to be constant, unchanging because life is too busy, too pressurized at this time of year. 'Let's stick to the routine,' we say, 'enjoy the celebrations, and hopefully, just hopefully, have time to relax in January!'
If we are not careful – if we don't make the time to reflect, to listen, to wait – we'll miss the Christ-child. We'll not see the miracle of God in human form. Just as most of Israel missed its Messiah, so God's grace will pass us by. If you want to make some space during Advent, then on Monday and Friday afternoons most weeks in Advent St. James Church in Ashton will be open for prayer and refreshments, perhaps even for writing Christmas Cards and wrapping presents …… Why not take advantage of the opportunity to be quiet and to pray?
Advent is our time to centre ourselves before Christmas, to focus on the true meaning of the Christmas story, to grasp that God's Son, the Christ, God incarnate, Emmanuel, God with us – Jesus is coming – he's coming for us. He is coming for me.
Secondly Advent is about looking forward, not to Christmas, but to Christ's Second Coming. Jesus spoke about this our Gospel reading. Passages in the Gospel about the Second Coming are difficult for us to read, partially because it is difficult to disentangle them from references that the Gospels make to the sack of Jerusalem in AD 70. But perhaps more significantly because the Second Coming seems for Jesus to be so immediate. Something that might happen tomorrow. And so we, the Church, have our questions – raised at different times with different intensity. Why has it been so long? Has God forgotten us? Is Jesus never coming back? Were we intended to take it literally? Was Jesus mistaken? Is it important to believe in the Second Coming?
How similar we are to the people of Israel awaiting their Messiah. How similar to people like Mary and Joseph, Elizabeth and Zechariah and so many like them living in Judea under Roman rule before the birth of Jesus.
And this similarity is even greater in areas where the need is more pressing – where the church is under persecution, living under totalitarian regimes! Listen out for the cry of the persecuted church wherever it is to be found throughout the world, hear their cry: … 'When will Christ return? When will we be released from torture, from oppression, from darkness?'
How similar too, to those nations waiting year after year under the tyranny of Communism – seemingly without hope. …. Yet in 1989 there was a dramatic change. What was unbelievable, happened. The wall came down and almost like a domino effect oppressive regimes in Europe disappeared, often without a shot being fired.
Yes, we are in a similar position to the OT people of Israel, similar to those under oppressive regimes. Similar, but oh so different. ……………. Yes, we wait for something that is, in one way, no more than a promise – a promise to be taken on trust – Christ will come again. But we also have something of the reality on deposit. We have the Spirit present with us and in us as a deposit, a guarantee of the life that is to come – as Paul is at pains to make clear in so many of his New Testament letters. ……….. And when we come to Holy Communion we are able to look back to, and participate in, the realities of Christ's first coming – his death and resurrection. And look forward to, and participate in, that heavenly banquet in which we will all share – a meal that Jesus promised to eat with us in his Kingdom after his return.
Paul in Thessalonians and Jesus in Luke both encourage us to live lives which anticipate Christ's return, watchful for his coming, overflowing and increasing in love. For we can believe that Christ will return.
Things that people dream about, do happen. Christ Second Coming is no more impossible than the collapse of Communism felt to a divided Europe, a divided Germany. The seemingly impossible is possible with God. And God has promised that Christ will return. And so we say with confidence when we come to communion.
Christ has died, Christ is risen, Christ will come again.